While browsing Amazon looking for a Faraday blanket to block EMI for an experiment I'm doing, I come across - and really this is no shit - products for "protecting your wifi from Russian hackers and 5G emissions." Faraday cages for wi-fi routers! Whaaaaaat?
Faraday cages, boxes and blankets are for
protecting electronic equipment from electromagnetic radiation
. Motor noise and such. Interference. They block radio waves, anything electromagnetic.
So if you are so fucking stupid to put your wi-fi router in one of these, it WON'T WORK ANYMORE YOU FUCKING DUMBASSES! Because the wi-fi router is a RADIO YOU GODDAMNED IDIOTS! So is your mobile phone! So the signal from your wifi won't get out of the faraday cage!
Most of the products are just cheap metal cases, they're not faraday cages at all and will block nothing, but these are selling like hotcakes on Amazon and ebay - it's a
scam
, YOU DUMBASSES. These dudes are raking in the dough from you idiots who believe Russian hax0rs might want to break into your wifi, or that 5G might be infiltrating your pristine system.
But it gets better - some of these idiots aren't taken in by the phony faraday cages, and get real ones to put their wifi routers in, THEN GET MAD WHEN THEIR WIFI NO LONGER WORKS! I shit you not.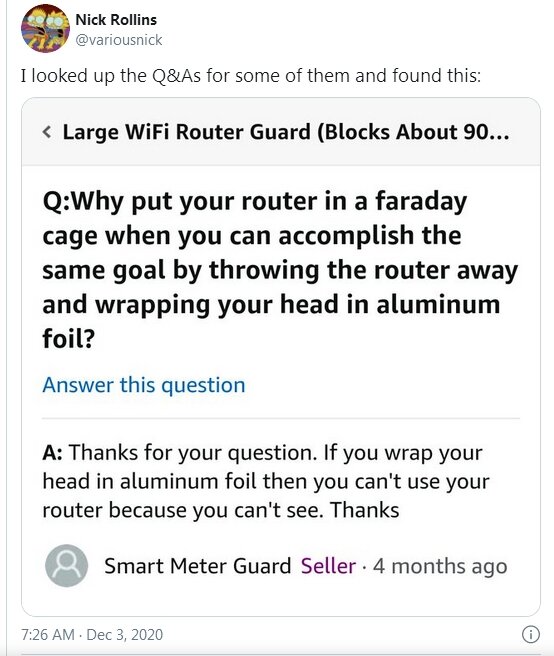 So I did a little research and yeah, this is a thing.
Popular Mechanics
has the dope on it, as does
a humorous science blog
.
Yes, people are far more ignorant and stupid than you have the capability to imagine.
Click both links, enjoy, and do reply back.